By Ayeshma Ranasinghe
Ingredients (Serves 2)
Bread Slices 6 – cut into small squared shapes
Eggs 2
Chicken Breast 100g (Cut into small squared pieces)
Medium Sized Onion 1 (sliced)
Carrot 1 (Grated) -optional
Chillie Flakes 1 table Spoon
Chillie Powder 1 table Spoon
Turmeric Powder 1/2 tea Spoon
Cumin Seeds 1/2 tea Spoon
Soy Sauce 2 1/2 table Spoon
Ginger Garlic Paste 1 tea spoon
Salt to taste
Oil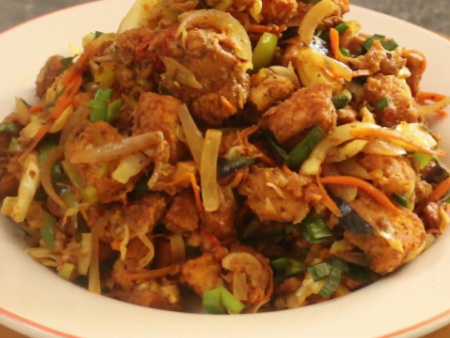 Method
Heat a Pan (Wok will be perfect) add Oil to it. When the Oil starts to heat add cumin seeds, ginger garlic
paste and stir fry. When the ginger garlic paste starts to get golden brown add the chicken to it and fry
until the chicken is cooked well, then add 3/4 of sliced onion (rest will be used later) and stir fry.
Push the mixture into a one side in the pan and add the eggs and scramble it on the other side. once the
eggs are scrambled well mix it with the chicken mixture. Add all the other spices and Soy Sauce. Mix well
and add the carrots. Since the Soy sauce is added taste the mixture before you add salt. At last add the
bread and stir fry until bread gets mixed with the mixture. Garnish with the onion we reserved previously.
Enjoy!