Ingredients
1 package rice stick (16 oz.)
2 eggs (slightly beaten seasoned with salt and pepper)
2 to 3 stalks green onion or scallions chopped
1 large red onion sliced
1/2 tspn turmeric powder
1 sprig curry leaves
rampe (pandan leaves)
1 tablespoon minced ginger
1 large soup cube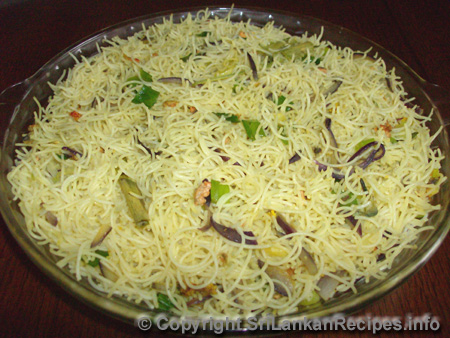 Method
Add water and a little salt to a large pan and bring it to a boil. Then add the crushed rice stick and remove from fire. Soak the rice stick in water for 4-5 minutes and drain in a colander.
Set aside within reach of your wok or pan. Heat a 14-inch flat-bottomed wok or a 12-inch skillet over high heat until a drop of water evaporates within a second or two when added to the pan.
Swirl in 2 teaspoons of the oil by adding it to the sides of the pan and swirling the pan. Make sure that the bottom of the wok or pan is coated with oil. Now add the sliced onion and stir fry till
golden brown. When the onions are done move it to the side of the pan, add the eggs into the middle and scramble it well. Add the minced ginger, tumeric powder, curry leaves and rampe and stir well.
Crush the large soup cube well and add it to the mixture. Now add the rice stick and chopped green onions, stir well and remove from fire.