IngredientsString Hopper Dough
1 lb. Rice Flour
Salt to taste
Boiling water
Pani Pol
8-12 ozs. honey
1/2 Coconut grated (about 2-3 cups)
2 Cardamoms powdered
1 tspn grated nutmeg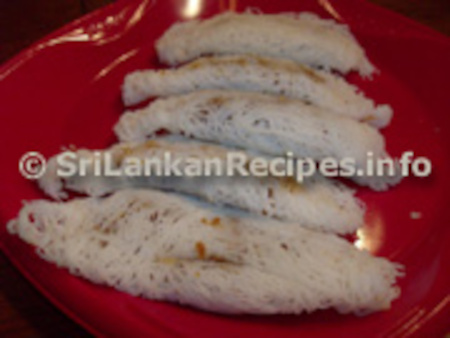 Method
Method for Pani Pol
Boil the honey in a pan and add the grated coconut, powdered cardamoms and nutmeg. Mix well. Allow to cool and use for lavariya.
Method for String Hoppers
Roast the rice flour well and sieve into a bowl. Add enough boiling water to make a dough that is soft but not sticky consistency as for string hoppers.
Squeeze the dough through the mould on to plantain leaves or foil paper(slightly oiled). Place a dessertspoon of pani pol mixture in the center and fold into two.
Remove the leaf and carefully place the lavariyas on string hopper mats and steam for about 8 to 10 minutes.