Ingredients
1 can Salmon or 1 lb ground beef /turkey
1 large onion chopped
2 or 3 green chillies finely chopped
2 cloves garlic chopped
Black pepper powder
Crushed red chillies
unroasted curry powder
1 tspn turmeric powder
Salt to taste
3 large potatoes
Bread crumbs
curry leaves chopped
Tamarind juice or vinegar
Cooking oil for deep frying
For the Batter
1 large egg
1 tbsn flour
Water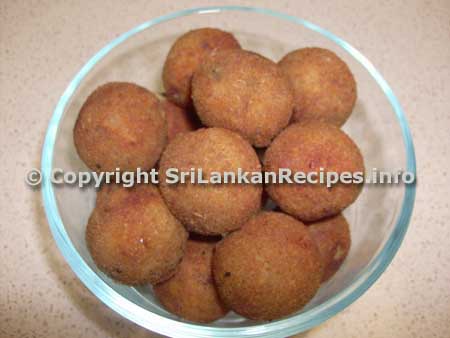 Method
If you are using Salmon drain the water and remove the bones and set aside.
Heat a large non-stick pan and add a little oil.When it's heated add the chopped onions.When it turns golden brown add the chopped garlic, curry leaves, green chillies and stir well.Now add the Salmon or ground beef/turkey.
Now add black pepper powder, curry powder, turmeric powder, Salt, crushed red chillies and stir well.If using salmon crush it well.Then add tamarind juice or vinegar and a little bit of lime juice and let it cook for a while. If using ground beef/turkey when it's cooked drain the excess oil.Let the mixture cool down.
Boil the potatoes well.Peel the skin and mash it well.Now add it to the meat or fish mixture and mix well.
Now make small balls out of the mixture and set a side.
For the batter, break one egg into a bowl and whisk it well.Now add flour and a little water and make a thick batter.
Drop the balls one at a time using a fork.Drain the excess batter and drop it into the bread crumbs and coat it on all sides.When everything is done heat a frying pan and deep fry the cutlets until it turns golden brown and serve.
TIP:When you are making cutlets for a party and if you want to make them ahead of time , make them and freeze them without deep frying. when it's time take them out of the freezer and deep fry them immediately. If not they might start to crack.