Ingredients
2 cups Semolina (rulang) roasted
2 cups shredded jaggery or brown sugar
8 ozs. milk
1/4 tsp cinnamon powder
1/4 tsp powdered cardamom
1/2 cup chopped dates or any dried friut
1/4 cup chopped cashews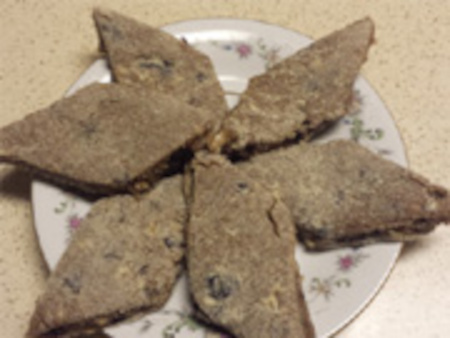 Method
Roast the semolina (rulang) in a pan on low heat while stirring all the time and set aside. Then in a seperate pan add grated jaggery or brown sugar with milk and bring to aboil and cook until it comes off the sides of the pan.
Add chopped cashews, chopped dried fruit, powdered cinnamon and cardamoms. Cook until mixture comes off the sides of the pan. Meanwhile have 1/2 cup rulang roasted and set aside. Lastly add the 2 cups of roasted semolina to the sugar and milk mixture and stir well.
Sprinkle a little bit of roasted rulang onto a cutting board. When the mixture has reached the right consistency remove from fire and turn on to the cutting board and flatten on top and allow it to cool for few minutes. You may sprinkle the top with roasted rulang if desired.
Cut the aluwa pieces into diamond shape or any desired shape whist still warm.
(Note: If the mixture is too watery you may add more roasted semolina that was set aside to get the right consistency)