Ingredients
Okra (ladies fingers) 500g
1/2 tspn red chillie powder
1/2 tspn roasted curry powder
little bit of mustard powder
Cooking oil
Salt to taste
1/2 tspn turmeric powder
1 inch cinnamon
1 oninon sliced
1 sprig curry leaves and pandan leaves (rampe)
1 cup thick coconut milk
1/4 tspn crushed red chillies
1 large tomato
1 tspn soy sauce
few fenugreek seeds
3 green chillies sliced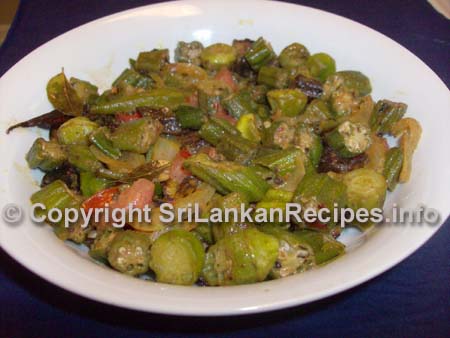 Method
Wash the okra well and cut them into 1 1/2 inch. pieces. Deep fry the okra (make sure the good colour stays) and set aside.
Heat oil in another pan and temper the onions, green chillies and cinnamon. Then add the fenugreek seeds and the rest of the spices along with crushed red chillies and stir well.

Then add the thick coconut milk and bring to a boil. Now add the deep fried okra, chopped tomatoes and salt to taste and remove from the stove.