Ingredients
1 cond. milk tin (325 gr)
8oz sugar
1/2 cup water
1 oz butter
1 tsp vanilla
1/4 tsp almond essence
1/4 cup chopped cashews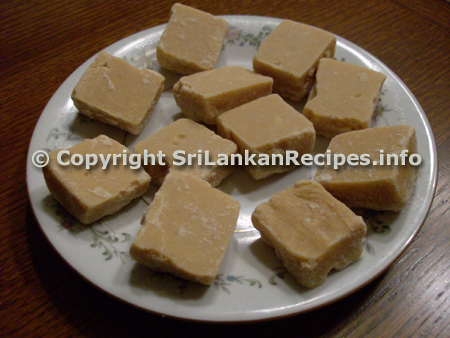 Method
Use a slightly heavy bottomed saucepan and a wooden spoon to stir. Slightly grease a square pirex dish.
1. Add sugar and water into saucepan and simmer until sugar is dissolved.
2. Add condensed milk and butter, keep stirring, until thick, and sides leaving pan.
3. Add cashew nuts, vanilla, almond essence and keep stirring for a few minutes.
4. Take off from fire, keep stirring and beating, until it is thicker, and spread evenly on the buttered dish.
(The sheen should be there).
5. Mark squares on top only, to cut later.
6. Leave it about half hour and cut the pieces.
7. Cool and store in air-tight container, in fridge, if you want to keep it over one week.
Practice makes perfect!