By Yugalanthini Weerakoon
250g chicken thigh fillets, chopped
1/2 cup cashewnuts
2 cups chopped pineapple
2 tbsp vegetable oil
4 cloves garlic chopped
1 large onion cut in large chunks
2 tsp chopped red chillies
1/2 red capsicum, chopped
1/2 green capsicum, chopped
2 tbsp oyster sauce
1 tbsp soy sauce or fish sauce
1 tsp sugar
3 spring onions
2 tbsp shredded coconut, toasted
Salt to taste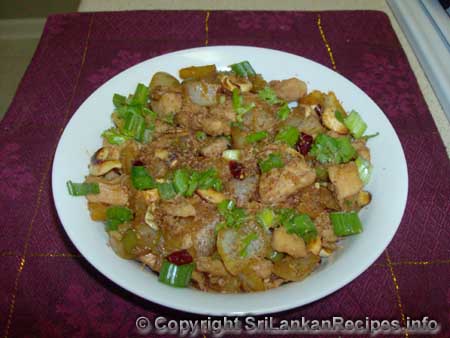 Method
1. Roast the cashew on an oven tray for about 15 min in a moderate oven,
180*c 350*f/ gas mark 4, until deep golden;allow to cool.

2. Heat the oil in a pan and stire fry the garlic, onion and chillies over medium
heat for 2 min; Increase the heat to high and stir fry the chicken and capsicum,
tossing until the chicken is light brown.

3. Add the oyster sauce, fish sauce, sugar and pineapple and toss for 2 min.
Toss the cashews through.


4. Arrange on a serving plate and scatter the spring onion and coconut over the top.


5. Serve immedietly with rice, If you like garnish with coriander leaves.