(This is a very easy to prepare festive dish that everyone will like)
Ingredients
Chicken 1lb
Unroasted curry powder
Turmeric powder
Chopped garlic and ginger
Tamarind or vinegar
1 Cardamom and 1 stick Cinnamon
1 tbsn corn flour
black pepper powder
red chillie powder
salt to taste
Cooking oil or margarine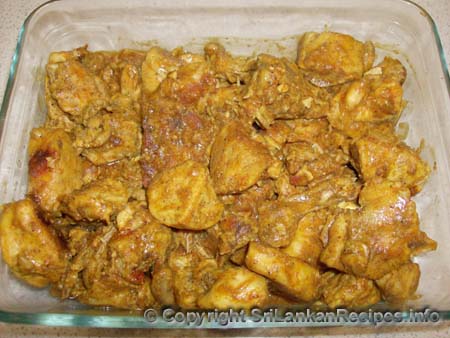 Method
Cut the whole chicken into regular size pieces without skin or you can use chicken breasts.Add turmeric powder,salt,tamarind,curry powder,spices and mix it well.Then add sufficient water and cook thoroughly.
When it's done heat a frying pan and add margarine or cooking oil.When the oil is heated add few chicken pieces at a time and brown it all the sides.
Take the chicken out of the pan and add the chicken gravy that was left from boiling.Mix 1tbsn corn flour in to cold water and add it to the gravy and bring it to a boil.Then add some chillie powder,black pepper powder and mix well.Finally add the chicken pieces and mix well.Can add more chillie powder if desired.