Ingredients
6 large potatoes
1 large onion sliced
2 tspn crushed red chillies
1/2 tspn chillie powder
1/2 tspn turmeric powder
1 tspn mustard seeds
1 sprig curry leaves
1 stick cinnamon
Salt to taste
2 or 3 dried red whole chillies
1 tspn maldive fish (optional)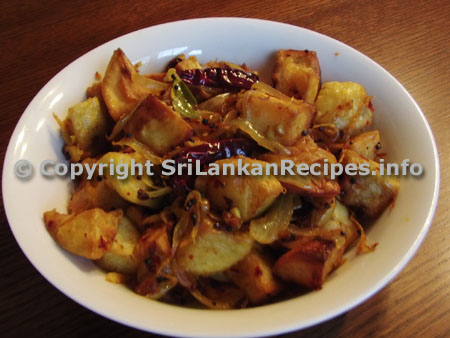 Method
Peel the potatoes and cut them into 2cm cubes. Add sufficient salt and deep fry them until golden brown. In a bowl, combine sliced onions, crushed red chillies, chillie powder, turmeric powder,
curry leaves, cinnamon, 1/2 tspn salt, maldive fish (optional), and mix well. Heat 1 tbspn cooking oil in a pan, then add mustard seeds and when it starts to splatter add 2 or 3 dried whole red chillies. Let it fry for a few seconds and then add the onion mixture to it. Stir fry until golden brown.
Finally add the fried potato cubes, mix well and remove from fire.
Good for parties