Ingredients
500 g potato
750 g sugar
1 small can of sweetened condensed milk – 14 oz (396 g)
4 tsp butter
1 tsp vanilla
4 cardamoms powdered (optional)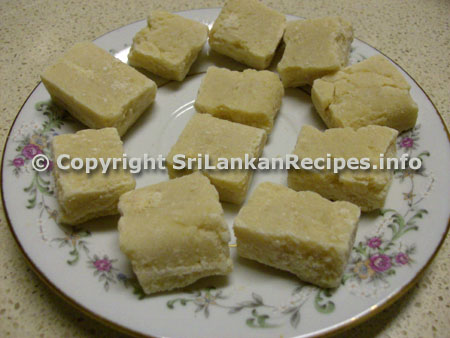 Method
Boil the potatoes till very soft and mash well. Keep it aside. To make the sugar syrup, combine 750g sugar and 1/4 cup water in a saucepan.
Heat over medium, stirring constantly, to completely dissolve the sugar before the mixture begins to boil.
Add the mashed potato and stir in low fire. Now add the condensed milk and keep stirring until the mixture gets thick, continue for about 1/2 hour.
Then add butter, vanilla and continue stirring until mixture leaves the sides of the pan. Take off fire, keep stirring a little and
pour the mixture into greased trays. Mark and cut into desired sizes when cool.