Ingredients
8 inch flour tortillas
1 lb ground turkey or beef
2 large boiled potatoes
1/2 cup chopped onions
1/4 cup frozen peas
1 tspn cumin seeds
1 tbsp coriander seeds
1 tspn chopped garlic
2 tspn chopped ginger
2 green chillies
1/2 tspn turmeric powder
2 tspn garam masala
2 tspn red chili powder
2 tspn lemon juice
2 tbsp vinegar
salt to taste
cooking oil for deep frying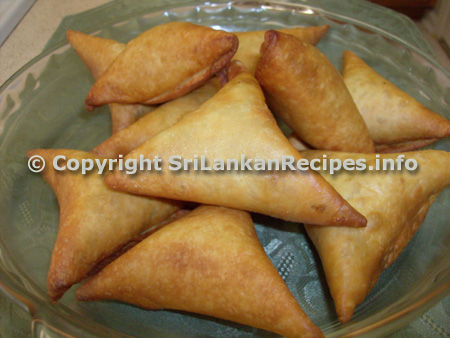 Method
Heat a pan with 1 tbsp oil and add the chopped onions. When its light brown, add chopped ginger, green chillies and garlic. Then add coriander, cumin seeds, turmeric powder and stir well.
Now add ground turkey or beef, garam masala, red chili powder, vinegar, salt to taste, stir well and let it cook until well done. Then add the green peas and stir for a while.
Meanwhile, peel and mash the potatoes and add to the filling. Add the lemon juice, mix well and remove from fire.
Cut each tortilla (circle) into two and lightly dampen the edges of each semi-circle with lightly beaten egg white. Shape each semi-circle onto a cone by pressing the cut edges
together. Place 1 1/2 tablespoon full of filling into the cone and seal the edges well. Repeat this with the rest of the tortillas. Deep fry in medium hot oil about 2 at a time until crisp
and golden brown. Remove to a paper towel.
If you prefer, you can make these ahead without deep frying and keep it in the freezer. Whenever you need it, take it out from the freezer and deep fry immediately.