Ingredients
1 lb Beef
1 large onion sliced
1 stick cinnamom and few cardomoms
2 cloves of garlic finely chopped
1 sprig curry leaves and rampe(pandan leaf)
1 cup thick coconut milk
1 tbspn Sri lankan curry powder
1 tspn chillie powder
1 1/2 tspn black pepper powder
Tamarind juice
Salt to taste
1/2 tspn turmeric powder
Cooking Oil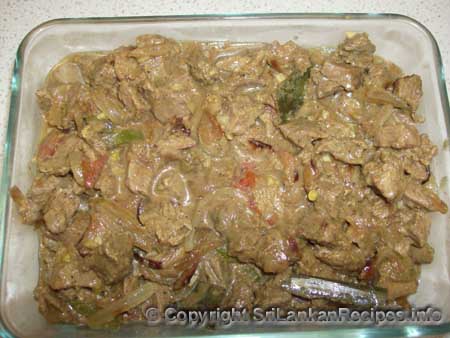 Method
Cut the beef into small cubes , wash well and add them into a pan. Now add turmeric powder, curry powder, chopped garlic, chillie powder, spices, salt and tamarind juice and mix well.
Add sufficient water and cook well. While the meat is cooking heat another pan and add enough oil to fry the sliced onions. When it turns golden brown add the curry leaves and
rampe and stir for awhile and remove from heat. When the meat is well done add the coconut milk and the tempered onions and mix well . When the gravy thickens remove from heat and enjoy with rice.