Ingredients
1 lb ash plantain or green banana
1 1/2 tspn chillie powder
1 tspn cumin powder
1/4 tspn black pepper powder
1 1/2 tspn salt
1 sprig curry leaves
1 small onion (chopped)
1 1/2 tspn coriander powder
1/4 tspn sweet cumin
1″ cinnamon
2 dessert spoons oil
12 ozs. coconut milk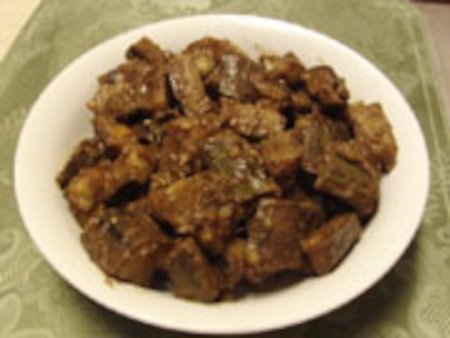 Method
Peel and cut ash plantains into 1 1/2″ lengths. Heat a pan and roast the curry powders until dark brown and set aside.
Then heat the oil in a pan and add curry leaves and chopped onions. Fry until the onions are light brown. Now add the ash plantains mixed
with all the ingredients and toss for a few minutes. Finally add coconut milk and bring to boil. Cook until gravy has reduced and plantains are cooked.