Ingredients
1 lb Banana peppers/ capsicums
1 medium tomato(sliced)
2 tspn crushed Maldive fish
1 tspn red chillie powder
1 1/2 tspn curry powder
salt to taste
1 clove garlic (chopped)
1/2 of a large onion (sliced)
1/2 tspn black curry powder (kalu kudu)
1/2 cup thick coconut milk
1 tbsp cooking oil
few curry leaves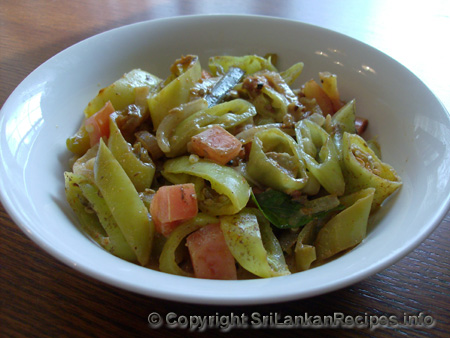 Method
Cut out the stems of the banana peppers and cut them into long slices. Heat a pan with cooking oil and add the sliced onions.
When the Onions are golden brown add the chopped garlic, Maldive fish and curry leaves and stir well.
Now add the sliced banana peppers, red chillie powder, curry powder and salt. Let it simmer until the peppers are soft.
Then add the sliced tomatoes and coconut milk and cook for few more minutes. Lastly add the black curry powder and remove from fire.