Ingredients
1 lb. Beef
1/4 lb. potatoes
2 level dessert spoons red chillie powder
3 dessert spn vinegar
salt to taste
2″ piece cinnamon
few cloves
2 bulb garlic finely chopped
2 cardamoms
1 small piece ginger finely chopped
1 tspn sugar
1/2 lime and 2″ lemon grass(sera)
Cooking oil
a sprig of curry leaves and a piece of rampe
1 medium onion sliced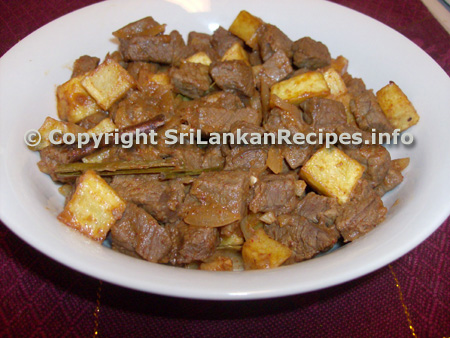 Method
Cut the beef in 1/2 inch cubes and season with vinegar, salt and ground chillie powder. Add chopped garlic , ginger, cinnamon, cloves , cardamoms and lemongrass and set aside.
Then cut the potatoes in small cubes and season with a little salt and deep fry until golden brown and set aside. Now heat a pan with little oil and add rampe, curry leaves and onion and stir
until onions are light brown. Then add the beef mixture and stir well. Stir occasionally, scraping off the bottom. When cooked, add the fried potato cubes and spread the lime juice and sugar.
Before serving drain the excess oil and stir the curry well.