Ingredients
1 lb Chicken breast
1 large Onion
1 large tomato
2 Banana Peppers(Malu miris) or green bell pepper
Turmeric powder
Chopped 2 cloves Garlic
Chopped Ginger
Rampe
Curry leaves
1 inch stick of cinnamon
slightly crushed Black Pepper
Tamarind
Salt to taste
Cooking Oil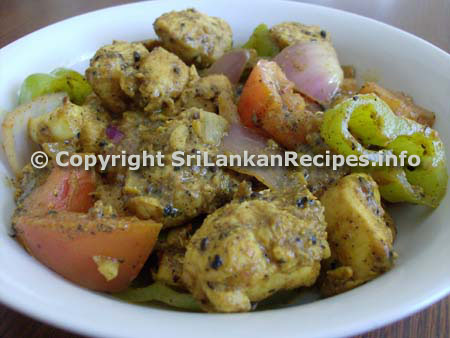 Method
Slice the half of the onion the regular way and the other half in to 2 inch size pieces.Cut the Chicken breasts in to small pieces.Slice the outside of the Tomato in to 2inch pieces and chop the middle part and leave it aside.
Heat the cooking oil and add the chopped Onions,rampe,curry leaves,chopped green chillies and cinnamon and let it fry.Then add chopped garlic, ginger,turmeric powder ,salt,sliced chicken and Tamarind juice and let it boil for a while.You will get a nice yellow curry.Do not add water or coconut milk in to it.When it's done add the chopped middle part of the tomato.Then add crushed pepper,Slied tomato(big pieces),sliced banana pepper,Onions(2inch sliced)and a bit of salt and let it simmer for awhile and enjoy it.
You can add a little bit of chillie powder but make black pepper the main ingredient.