Ingredients
(1)Pancake batter
(2)Filling
(3)Rolls
(1) Pancake batter Ingredients
1 egg
1 cups flour
1 cups milk
1/2 tspn baking soda
1/2 tspn baking powder
pinch of salt
Method
Whisk the egg and add the rest of the ingredients and mix well. If the batter is too thick add a little water.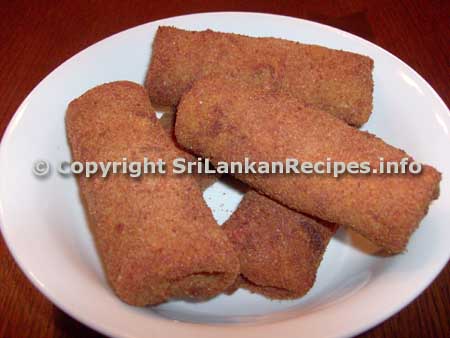 (2) Filling ingredients
1 lb minced beef or 1 can salmon
1 tbsp vinegar
salt to taste
1 tspn pepper powder
1 tspn red chillie powder
2-3 green chillies chopped
2 potatoes boiled and mashed
2 Bombay onions chopped
2 tspn soya sauce
2 bulbs garlic chopped
1 small ginger piece chopped
Method
Season the beef/Salmon with vinegar, salt and pepper powder and set aside. Heat a pan and add alittle cooking oil and add the beef mix. Then add the chopped garlic and ginger, cover and cook until well done.
Now add the onions and stir fry until they are done. Finally spread the soy sauce and ketchup if desired and remove from stove. Add the mashed potatoes and mix well.
Add chillie and pepper powder according to your taste
(3) Rolls ingredients
1 egg
bread crumbs
Margarine
cooking oil for deep frying
Method
Heat very little margarine in a flat frying pan and add 2 table spoons of prepared batter and make a pancake. Toss on to a board and place a table spoon of the filling in the center.
First bend the two sides and then roll up folding the two sides. Continue making the pancakes and rolls. It is important that you make the rolls while the pancake is warm so it would seal well. Now dip
the rolls in whisked egg and toss in bread crumbs. Heat the cooking oil and deep fry the rolls. Serve with tomato sauce.