Ingredients
1/2 lb Butter
1 lb Icing Sugar
2-3 tspn nescafe (instant coffee)
1 Cup Milk
2-3 Marie Biscuit/Cookie Packets (120g)
1 tspn Vanilla
2 tbsp chocolate curls (grated chocolate)
1/2 cup chopped roasted cashew nuts(optional)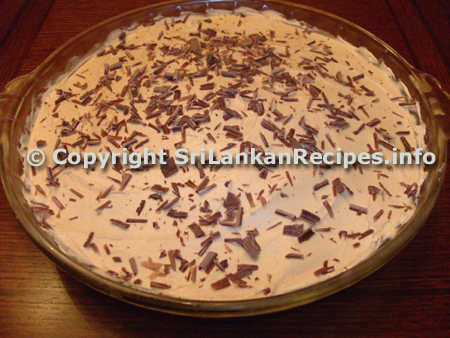 Method
To make the coffee cream, beat butter & icing sugar until it becomes pale colour. Then flavor it with nescafe (instant coffee) dissolved in 1 tbsn hot water, vanilla & beat well.
In a glass dish pour a thin layer of coffee cream. Soak the biscuits lightly in milk (flavor with a little instant coffee), arrange a layer of biscuits over the cream (gaps should be filled).
Then spread a layer of coffee cream again & a layer of biscuits.
Arrange like this alternately until the coffee cream is over (the top most layer should be cream). Sprinkle with chopped roasted cashew nuts or chocolate curls if desired.
Chill for about 2 hours.