Ingredients for the mixture
1 can salmon or 1lb ground beef/turkey
3 large potatoes
1 onion sliced
chopped garlic and ginger
2 green chillies chopped
green onions(optional)
Black pepper powder
crushed red chillie
1 tspn curry powder
chopped curry leaves
Salt to taste
vinegar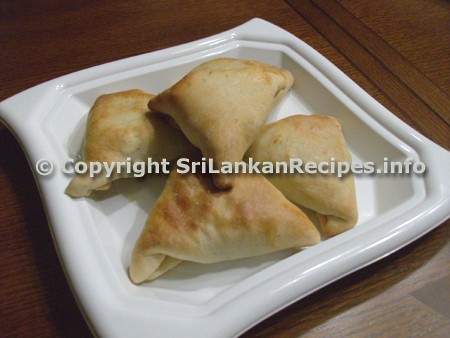 Method
Heat a pan with a little cooking oil and add the sliced onions. When it turns brown add the chopped garlic, ginger, green chillies and chopped curry leaves and stir it well. Now add salmon or ground meat. Then add curry powder, salt to taste, black pepper powder and crushed red chillie with vinegar and cook well.
Boil the potatoes in a pot until tender. When it's done peel the skin and mash it well with a fork. When the fish or meat mixture is done add the mashed potatoes into it and mix well.
Bun dough recipe
In bowl combine 3 cups flour, 1 tspn salt and sugar. Make a well in the center and pour 1 tspn yeast mixed in 1 cup warm water and a little cooking oil. Stir until it form a ball and cover and let it rise in a warm place until doubled(about an hour).
When you are ready to make the buns place the dough on a board and take a little dough at a time and roll it and add 1 tbsn full of mixture in the center and cover it with the dough into a triangle shape or any shape you prefer. When you are done making the buns place them in lightly buttered trays and brush the top of the buns with egg white for color and bake in the oven at 375 F for 20-25 minutes or until well done.
You can use the frozen bread dough which you can find in the freezer section of your local grocery store.