Ingredients for beef/chicken curry
1 lb boneless skinless chicken breast or beef
1/2 of an onion sliced
chopped garlic and ginger
1 green chillie chopped
2 cardomoms,1 clove and 1 stick cinnamon
red chillie powder(as desired)
1 1/2 tspn curry powder
1 tspn black pepper powder
Method
Wash the chicken well and cut into thin stripes. If using beef cut them into small pieces and season with red chillie powder, curry powder, salt and black pepper powder and set aside.Heat a pan with a little cooking oil and add the onions. When it turns light brown add chopped garlic, ginger, green chillies, curry leaves and spices. Then add the seasoned meat/chicken and stir well. Add vinegar or tamerind juice and sufficient water and cook well. When the meat is done add 1 cup coconut milk and simmer for few minutes and remove from heat.
Ingredients
8-10 large flour tortillas
4 medium carrots grated
200 g green beans cut into thin stripes
1/2 of a bell pepper cut into thin stripes
green onions
1 large onion sliced
chopped garlic and ginger
2 green chillies chopped
1 sprig curry leaf and rampe
2 eggs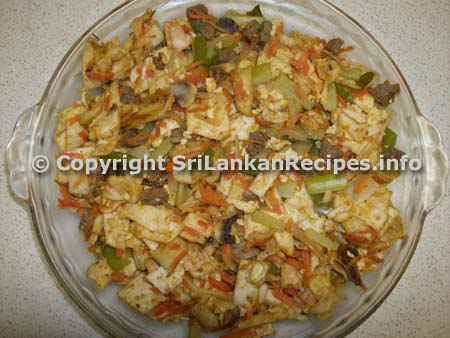 Method
Cut the tortillas into thin stripes and then cut into 2 inch size pieces and set aside. Get a large non stick skillet and add 2 tbsn cooking oil and add the sliced onions and stir until golden brown. Then add chopped ginger, garlic, green chillie, curry leaves and rampe and stir well. Now add 2 eggs one at a time and scramble it well. Then add all the cut vegetables(can use any vegetable you want) and stir well. Let it cook for a while. After few minutes add the striped tortillas and mix well. Finally add the meat and then the curry and mix well until it stick together.