Ingredients
4 cups rice(basmati)
1 tomato chopped
2 tbsn plain yogurt
turmeric powder
1 tspn chillie powder
1/4 cup chopped onions
1 large onion thinly sliced for deep frying
1 tbsn Biriyani paste
2 cloves, 2 cardomoms and 1 stick cinnamon
curry leaves
cilantro(corriander leaves
Mint leaves
1 cup coconut milk (optional)
1 Soup cube (optional)
Margarine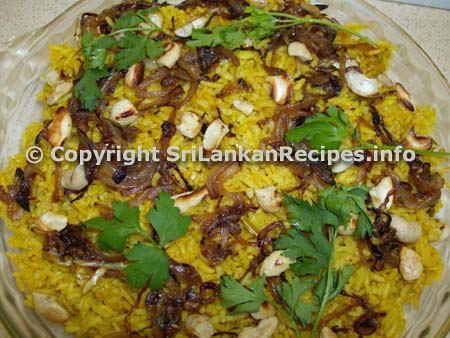 Method
Deep fry the thinly sliced onions. Blend 1/2 of the fried onions and leave the other half for later. Fry the mint and cilantro leaves lightly and set aside. Heat a pan and add a 1 tbsn margarine.
When it's heated add the chopped onions. When it's light brown add the chopped tomatoes, 1 tspn chillie powder, salt and turmeric powder and stir well. Now add the spices, biriyani paste, yogurt and blended onions.
You will get a nice brown color Paste. Now add the washed rice and 1 cup coconut milk or add sufficient water. Add a soup cube to the rice and cook well (optional). You can transfer this to a rice cooker and cook it until well done.
When the rice is cooked serve the rice into a platter and add the fried onions, cilantro and mint leaves and mix well. If you want you can add fried cashews and raisins as well.