By Shyamali Senawiratne
Ingredients
1kg Mung Flour
750g White Rice Flour
3 cups Black Treacle
Batter Ingredients
1 egg
200g rice flour
Pinch of salt
1 cup Coconut milk
Pinch of Tumeric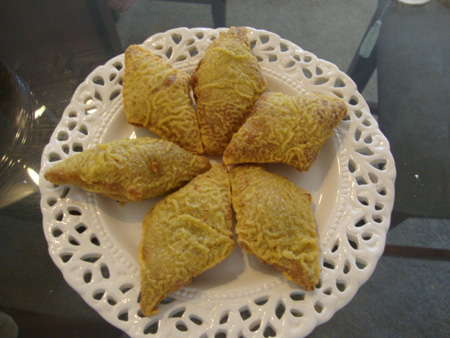 Method
In a bowl combine mung flour, rice flour and a pinch of salt. Bring a pot of Treacle to a boil. Once you try to pour it, it should form a thick line like a thread. That is the correct point to add flour into it.
Keep one cup of boiled treacle aside.
Mix flours and treacle well, using hands until you can knead the dough without it sticking to your fingers. Dust a board with white flour and spread the mixture on a board and cut diamond shapes.
In another bowl mix coconut milk, rice flour, egg, turmeric and salt, and make a thick batter.
Meanwhile heat a pot filled with oil. Dip the diamond shape kavum in the batter and add kavum to oil and cook until golden bown.