Ingredients
2 cups Basmati or long grain rice washed
3 tbspn cooking oil
3-4 cloves
1 cardamom pounded
1/2 tspn whole black pepper
1 tspn cumin seeds
3 large onions sliced
1 cup frozen green peas (you can use more or less, as you prefer)
3-4 cloves garlic crushed
1 1/2″ piece ginger crushed
2 stock cubes (any flavor)
Salt to taste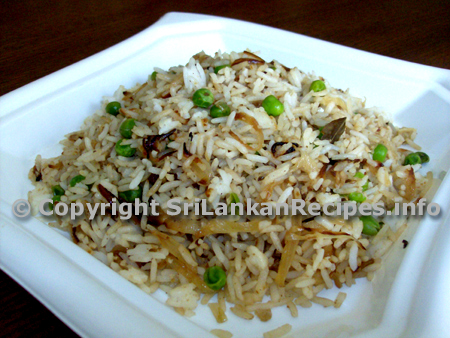 Method
Cook the rice the regular way and set aside. Heat the oil in a large flat-bottomed pan and add the cinnamon, cloves and cardomom. After a minute add the cumin seeds.
As soon as they stop spluttering, add the onions. Fry until they are golden brown. Now add the chopped ginger and garlic and stir fry for few minutes. Sprinkle a little bit of water if necessary, to prevent burning and sticking.
Then add the soup cubes, crumbled and salt to taste. Add peas and fry for few more minutes. Finally add the cooked rice and mix well. Remove from heat and serve.