Ingredients
Filling ingredients
1 lb minced meat or 1 can salmon
1 tspn pepper powder
1 tspn red chillie powder
2-3 green chillies chopped
2 potatoes boiled and mashed
2 Bombay onions chopped
2 cloves garlic chopped
1 small ginger piece chopped
1/2 tspn cummin powder
1 tspn coriander powder
Few curry leaves finely chopped
About 15 sandwich bread slices
1 tbsp vinegar
Salt to taste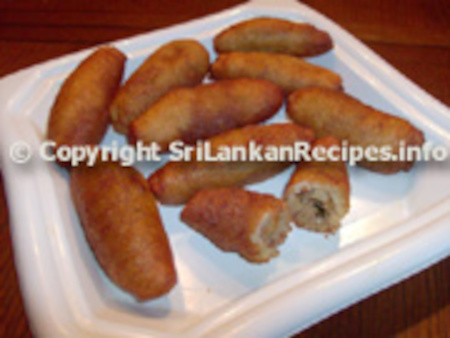 Method
Heat a pan with cooking oil and then add chopped onions, garlic, ginger and curry leaves and stir-fry for a few minutes.
Now add ground meat/salmon with all the spices, cover and cook until well done.
Stir the mixture occationally. Finally spread a little ketchup if desired and remove from stove. Add the boiled mashed potatoes and mix well.
Add chillie powder and pepper powder according to your taste.
Place the sandwich bread slices on a cutting board and trim the edges. Then dip each bread slice partially in to cold water and gently sqeeze out all the excess water from it.
Now place about a table spoon of filling in the middle and roll it and seal the edges well. Deep fry the bread rolls until deep golden color (make sure that you turn the roll so that all the sides get fried evenly).
Serve with ketchup or chillie sauce.