Ingredients
For the Filling
1 lb ground beef/ turkey
Salt to taste
2 dessert spoons vinegar
1 dessert spoon pepper powder
1 tspn roasted chillie powder
2 dessert spoons raw curry powder
1/2 lb. tomatoes chopped
4 green chillies chopped
1/2 lb. Onions chopped
1/2 lb., Potatoes boiled and cut in small cubes
1 dessert spn Margarine
1 sprig curry leaves
2 sprig mint leaves and celery chopped
2 dessert spoons ketchup
Method
Season the ground meat with vinegar, salt and pepper. Fry the curry leves and a few pieces of onions in margarine and add the roasted chillie and curry powder. Stir for a while and add the seasoned meat mixture and chopped tomatoes, and cover for a while. When all the gravy absorbs, add the chopped mint, celery, green chillies, onions and simmer for a while. Lastly, add ketchup and then the potato cubes and mix well.
For the short crust pastry
1 lb. flour
1 egg (only the yolk)
3 osz. margarine
1 dessert spn sugar
2 tspn table salt
1/2 lime
cold water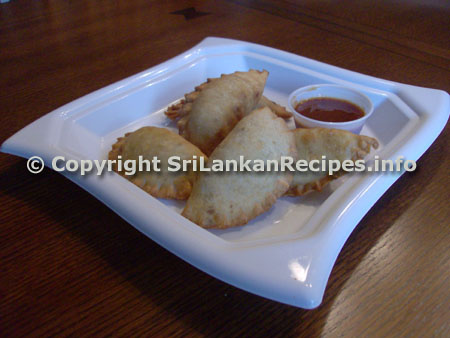 Method
Rub the margarine into flour. Place all the other ingredients in center of flour, and mix in sufficient cold water to make a stiff dough. Knead for a about 10 minutes. Dust some flour on a board and roll out the pastry. Cut circles with a fluted pastry cutter or a tin cover. Place a tea spoonful of patty curry in the center. Apply the white of egg round the edge. Fold in two and seal down the edges using a fork. Deep fry in cooking oil until golden brown. Enjoy with your favorite sauce.