Ingredients
5 cups of flour (Good if you can get self-rising flour which will make the rotti softer)
1/2 cup coconut scraped (can substitute dessicated coconut)
6 small onions sliced
About 1.5 cups water
Some curry leaves, finely cut
Salt (about 1 teaspoon)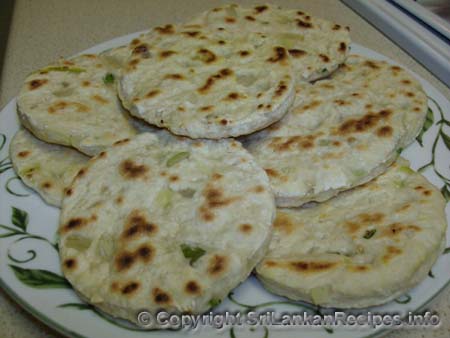 Method
Wash your hands. In a large bowl, using your hands, mix flour, scraped coconut, sliced onions, curry leaves and salt additing little bit of water at a time. Make the
dough into 1 large ball. The dough should not be too wet, but just wet enough to make it to a ball. If the dough is too dry, add a little more water. If the dough is too wet add more flour.
Then divde the dough into equal size 9 to 10 balls. Flatten on a floured board or plate using your palms or using rolling pin.
You can sprinkle a little dry flour anytime if the dough is too wet to work with. Optionally, you can also use the opening side of a plastic container to cut the rotti nicely into a circular shape.
Put a little oil or butter on a large flat pan, heat the pan and put the flattened roti and cook until golden brown on both sides in medium heat (Make sure not to overcook or else it will be too hard).
Remove from the pan and serve hot with pol sambol or lunu miris.