Ingredients
1 pkg of extra firm Tofu
1 d.spn corn flour
6oz. sugar
1 tspn red chillie powder
1 tomato cut into 8 or 10 pieces
1 cup pineapple chunks
2 oz. sliced ginger preserve(optional)
1/2 tspn of fresh ginger
Salt to taste
8 oz. water
1 tspn soya sauce
6oz. vinegar
2oz. each of carrots, leeks, onions, and capsicum chillies or green peppers cut into large chunks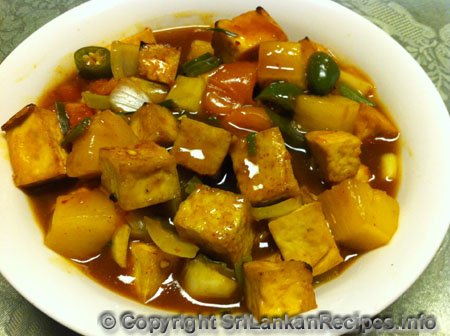 Method
Drain the Tofu and cut into regular size cubes. Season with salt and broil in the oven until all the sides are light brown.
In a bowl mix soya sauce, corn flour, red chillie powder, water with vinegar and sugar(you could add a little bit of pineapple syrup if desired). Then add to the
heated pan and allow to boil.
Now add all the mixed vegetables, chillies, tomatoes, and pineapple and cook for 2 minutes until the gravy thickens.
Lastly add baked Tofu chunks into the gravy just before serving.