Ingredients
10 eggs
400g Jaggery or 1 lb brown sugar
1 tspn nutmeg powder (optional)
1 tspn cardamom powder
1/2 cup cashews cut (optional)
1 can of thick coconut milk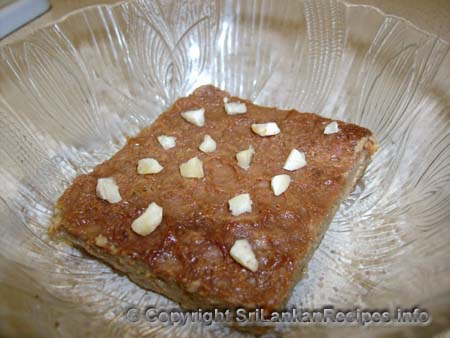 Method
Grate the Jaggery very finely and set aside. Beat the eggs. Then add the grated Jaggery (or Brown Sugar), nutmeg powder, cardamom powder, thick coconut milk and mix well using a beater.
Pour the mixture into a baking dish and cover it with a foil. The mixture now needs to be steamed. To do this, place the dish in a baking tray filled with a little water and bake it in the oven at 400 F for about 30 to 40 minutes or till well done.
Sprinkle with the cut cashews before serving.