Ingredients
2 cups Rice
Turmeric powder
2 cloves,2 cardomoms and 1 stick cinnomon
1 soup cube or chicken broth
2 tbsn chopped onions
1 clove garlic chopped
1 tpn chopped ginger
Curry leaves and rampe(pander leaves)
1 tbsn Margarine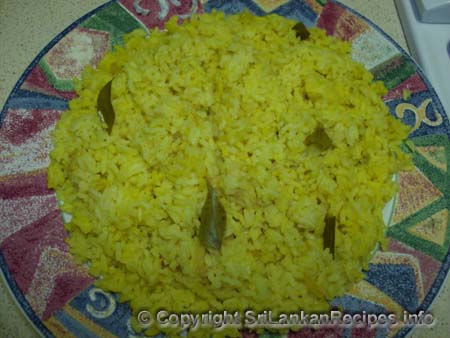 Method
Wash the rice and add 2 cups water and a soup cube and cook the rice in a rice cooker or a pot.(If adding chicken broth add water accordingly).While the rice is cooking heat a non stick pan and add the margarine.When it's heated add chopped onions.When it's light brown add the rest of the ingredients and stir well.When the rice is at the boiling point add the tempered mixture to it and cover the lid.When the rice is done mix the rice well remove the spices and serve.
This rice dish has a nice aroma and a taste. It's easy to prepare and good for parties.
Whether you're having a party at home or any other place, Yellow Rice will always be a crowd pleaser. While this is not an expensive or complicated recipe, Yellow Rice makes a perfect side dish for a family dinner at home.