Ingredients
FOR THE PUFF PASTRY
220g butter
220g all purpose flour
pinch of salt
4 drops of vinegar or lime juice
100ml water
FOR THE FILLING
6 hard boiled eggs(shelled and cut in halves)
cooked bacon stripes or ham slices
black pepper powder
red chillie powder
salt to taste
Ketchup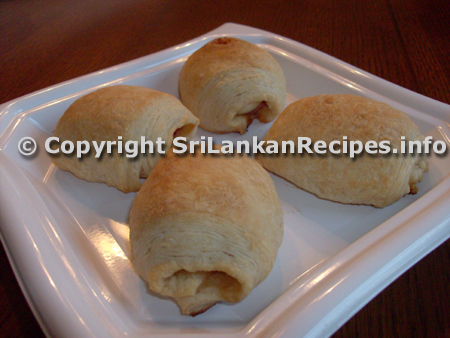 Method
In a bowl melt 40 grams of butter. In another bowl add flour, salt, lime juice/vingar, melted butter, water and knead the dough. Get the rest of the butter and lightly pound it and shape it to a rectangle and set aside. Now roll the dough into a rectangle shape and place the butter in the middle and wrap it and seal it well.
Now spread the dough slowly into a rectangle shape and sprinkle a liitle bit of flour and fold it 3 times. Chill the dough in the refrigerator for 10 minutes and repeat the same about 5-6 times. In the final roll spread the sheet evenly & cut into rectangle shapes.
Place the hard boiled egg halves on a dish and add seasoning(salt, chillie powder and black pepper powder as desired). Add a little bit of ketchup and wrap each egg half with a bacon strip or ham. Now place it on top of the puff pastry and fold it gently.
Preheat oven to 450F and place the folded egg halves on a baking sheet (folded side down) ,2 inches apart and bake for about 10-15 minutes or until golden.