KARAVILA SALAD / BITTERGOURD SALAD RECIPE
Ingredients
3-4 large Indian bitter gourd (Karavila)
1 medium size onion sliced
2-3 green chillies or 1/2 of a green bell pepper
1 tomato cut into cubes
lime juice
Salt to taste
black pepper powder(optional)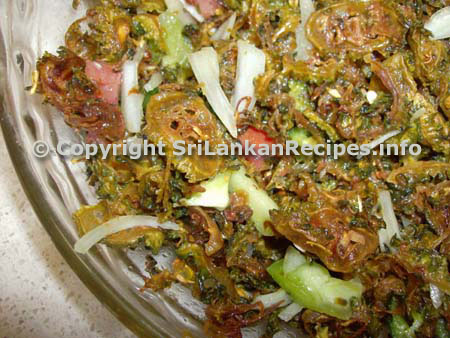 Method
Wash the karavila well and slice them very thinly (you can use a grater with a slicing blade).
Add a little tumeric powder and salt, mix well and deep fry the karavila until golden brown.
Add the fried karavila to a bowl and add the sliced green chillies or bell pepper,
onions and cubed tomato. Finally add salt and lime juice to taste and mix well.
Enjoy with rice and curry.